Proaim Victor V1.1 Video Production Camera Cart
€1.389,00 – €1.995,00 incl. btw
Let op! De geschatte levertijd is een indicatie. In de huidige situatie kan de levertijd afwijken. Wil je de exacte levertijd weten van dit product? Neem dan contact op met onze helpdesk.
Beschrijving
Proaim Victor V1.1 Video Production Camera Cart
The Proaim Victor V1.1 Video Production Camera Cart is much more than a standard camera cart. Choose from over 50 different accessories, and you can transform it into a DIT Cart, a Sound Cart, a Lighting Cart or even an Equipment Dolly.
A Built-in cheese plate on the Top Shelf allows you to mount many more accessories onto the cart for increased functionality.
The Proaim Victor V1.1 Cart has been designed with the convenience of its user in mind. An average Assembly/Disassembly Time of 2-3 minutes, Tools Free Design and its ability to Collapse into a Compact 7″ Thick Suitcase makes it the most user-friendly cart out there. Simply put, the combination of these features helps you in saving the precious time on-set and makes it super easy to travel.
Precisely constructed locking knob on each corner of the top shelf helps in adjusting the shelf up or down on rods. It allows you to adjust for your preferred standing heights and accommodate larger items placed underneath.
The Proaim Victor V1.1 comes equipped with 9″ Pneumatic wheels and 100% sealed bearing housing which ensures that your cart endures any load placed upon it and still roll incredibly smooth and silent. The use of Pneumatic wheels instead of the industry-standard rubber wheels makes sure that the overall setup remains light, smooth and sturdy. The wheels attach to the cart via a Dovetail Mechanism that ensures quick assembly and disassembly.
The V1.1 comes equipped with a completely redesigned Locking Mechanism which makes it super easy and quick to pack up into a compact carry case. When folded into a compact case, the new locking system on top shelf locks in place the top & bottom shelf, so the shelves don't slide off.
The Locks have hollow spaces at the centre which allow you to run cables from the top shelf to the bottom shelf, when the cart is assembled and in use on the set.
The specially designed foot brakes of the Victor V1.1 Cart keep it completely steady, stable and secure for reliable parking and eliminating your worries even when you are not close to the cart. The brakes are such that they don't become loose over time even when the tires experience some wear and tear, and the thickness decreases.
The new and improved handle grips allow you to adjust the position of the handle quickly and easily. It helps in creating leverage needed while lifting the cart quickly over obstacles, stairs or other incline surfaces.
Grip Cutouts
The Victor V1.1 features a new Grip Cutouts on the lower shelf of the cart. These allow you to lift the cart for both sides and load it up into the truck or other vehicles. You can also use these to lift the cart over obstacles or move it from one place to another.
Different Sizes of Proaim Victor V1.1 Cart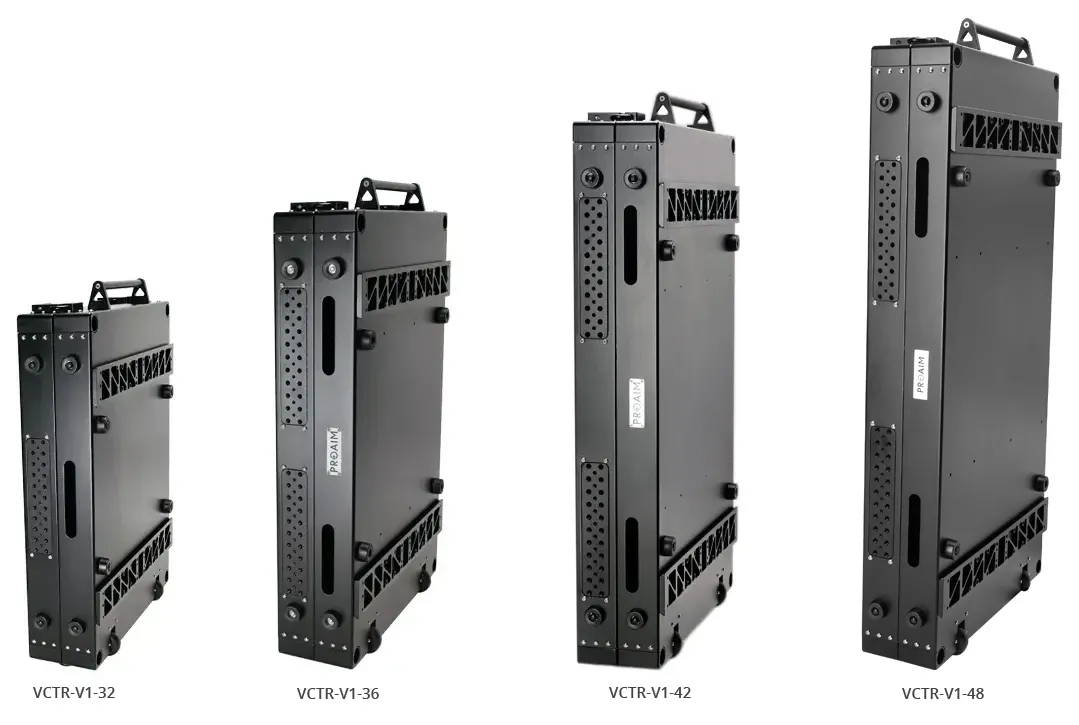 | | | | |
| --- | --- | --- | --- |
| | | | |
| | | | |
| | | | In-built Accessory Mount Plate |
| | | | Clamps with Hinge type Quick Mounting |
| | | | |
| | | | Adjustable Handles with Hinge type Quick Mounting |
| | | | Grip Cutouts for Lifting Cart in Various Situations |
Extra informatie
| | |
| --- | --- |
| Kies maat | Proaim Victor 1.1 32 inch, Proaim Victor 1.1 36 inch, Proaim Victor 1.1 42 inch, Proaim Victor 1.1 48 inch |
Als ondernemer is het soms nodig om te investeren. Het is daarbij fijn om de controle te houden over jou financiële uitgaven en daarbij de ruimte te behouden die jouw onderneming vaak nodig heeft. Financial Lease biedt hierin een uitkomst.
Om jou als ondernemer financieel te ondersteunen, werken wij samen met het onafhankelijke leasebedrijf, Lease-deal.
Lease-deal is een Nederlands leaseplatform gespecialiseerd in het vinden van de beste financieringswijze. Met ruim 30 jaar ervaring maakt Lease-deal het mogelijk om elk soort product te kunnen leasen. Een onafhankelijk lease-platform voor ondernemers. Lease-deal is actief lid van de Nederlandse Vereniging Leasemaatschappijen. Lees meer